My 1976 Jaguar XJC 4.2ltr. Drophead

The XJC is a two door version of the XJ6 four door saloon. When Sir William Lyons began styling exercises for the new XJ models in the mid 1960's, it was obvious that he had notions of a two door coupe in mind for eventual production. Many of these early styling mock-ups were based on the coupe theme in various shapes, forms and sizes, and the XJC was the last Jaguar car to be designed and built by Sir William Lyons.
The two door coupe is based on the shorter wheelbase XJ Series l platform and was clearly meant to be the sporty version of the XJ models. In the UK, Europe, South Africa, New Zealand and Australia they were offered in four versions: Jaguar 4.2C; Jaguar 5.3C; Daimler Sovereign and the Daimler Double Six.
All coupes were equipped with a black vinyl roof as standard equipment. Most likely it was because the marketing folks insisted on it, as vinyl roofs were the flavour of the month in the automotive industry at that time. Whatever the case, many present day owners have chosen to remove this feature. XJCs are extremely well proportioned with the styling of the pillarless coupe giving a sense of 'openness' that is often associated with a convertible.
Sadly the production of the XJC was all too short. After commencement in 1975 the last of these great vehicles rolled off the line in November 1977. Paradoxically this has helped the XJC to become the rare collectible classic it is today, although prices have never reached the dizzy heights achieved by the E Type. It remains one of, if not the best value for money classic cars available today. To this day, the XJC is Jaguars only two-door fixed head coupe saloon.
Jaguar never produced the XJC in convertible form. However a number coach building companies as well as some private individuals produced modified XJC in convertible form.
(Information selected from www.XJC.com.au)
Once I decided I wanted an XJC the search began in earnest. I found there were approximately 10 for sale in Australia (mid 2010) in different configurations. I have to admit this surprised me given the relatively small number originally delivered in Australia. There were V12s, 4.2ltr straight sixes, ( a 4.2 ltr was always my preference) there were ones with and ones without the original vinyl roofs, some with leather and some with rather awful velour trim and in a range of conditions from rust buckets to some very nice cars. Prices on the cars ranged in price from $5,500 (E-Bay) to $38,000. I came within a Jaguar's wisker of purchasing the one priced at $38,000 having negotiated a final purchase price of $32,500. However family issues intervened and I cooled off on that deal. It was a very nice car but probably really worth around $25,000 in my opinion. For a brief period I seriously considered the purchase of a XJS convertable. But when this XJC convertable surfaced on the net there was little doubt this was the car for me and am delighted with my purchase. I think the fact that it compliments the X350 and the S Type so well was a real winner for me.

So my Search Began in Earnest!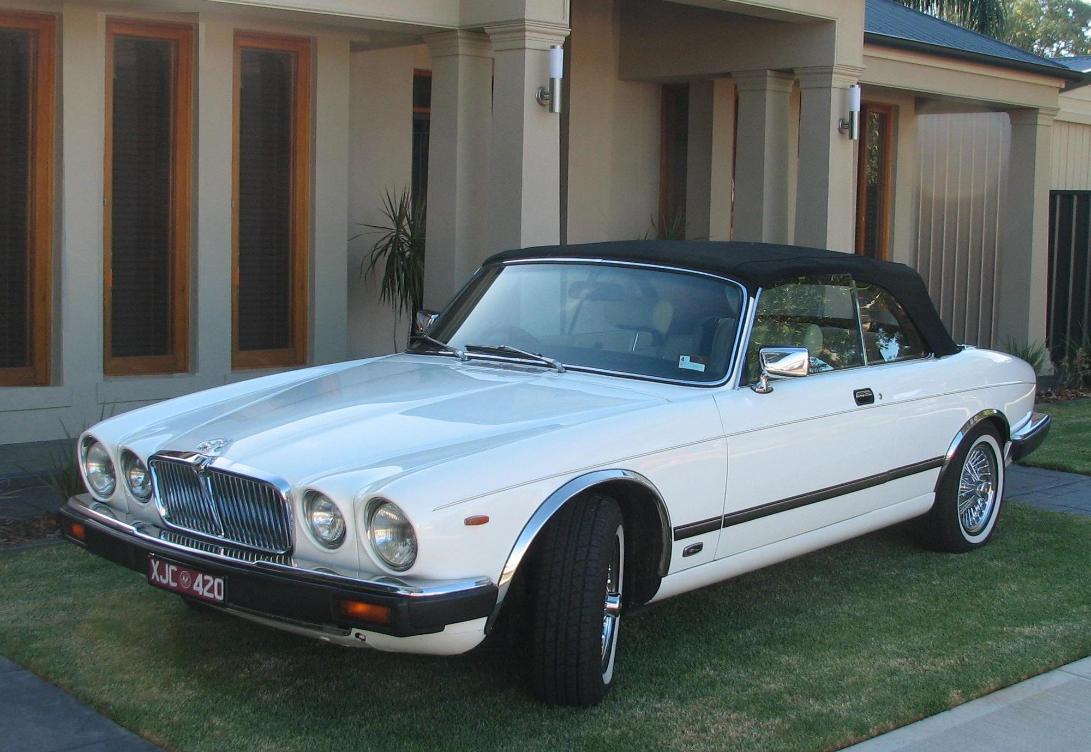 I am very grateful for the help and advice recieved from Phil Evans (The man behind the XJC Register in Sydney, for a link to this site CLICK HERE) Phil put me onto John Mann in Melbourne, a true gentlemen and a great source of knowledge when it comes to XJCs. John is a member of the Jag Club in Melbourne, a concourse judge and was happy to view two cars for me for sale in Victoria including this one. His reports were thorough and most helpful. Although John is somewhat of a purist when it comes to XJCs, being a concourse judge and all, (and therefore not initially excited about chopping the roof off a XJC) he was suitably impressed with this car. Thank you John!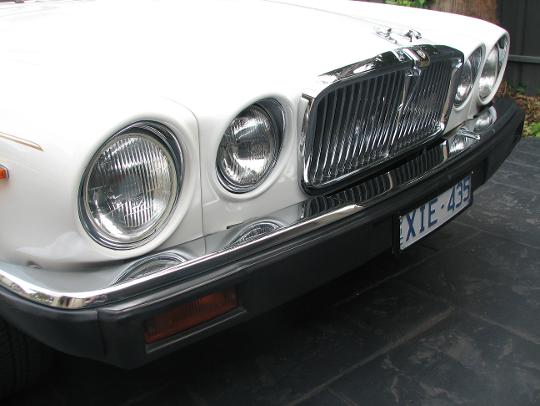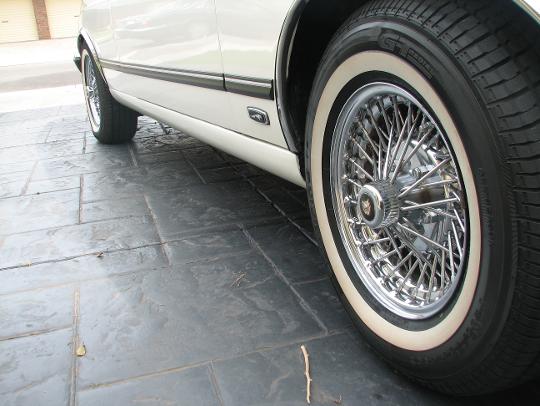 Although I do not have a great deal of history on this car as yet, I do know it was Australian delivered to Russell Kinsela Pty Ltd in Narrabeen N.S.W. on the 18th of February 1977. It was sold by Bryson Industries Pty Ltd N.S.W. with original registration JK 248. At some stage in the 1990s it was owned by a limosine company in Sydney. In early 1998 the car was owned by Mr R Spata who commissioned the conversion to a convertible, the work being done in Sydney by a well known company called "Chop Top". A full engineering certification was carried out at the time, a copy is now in my possession.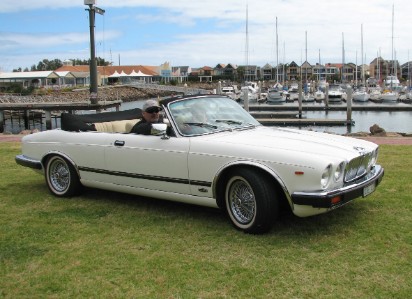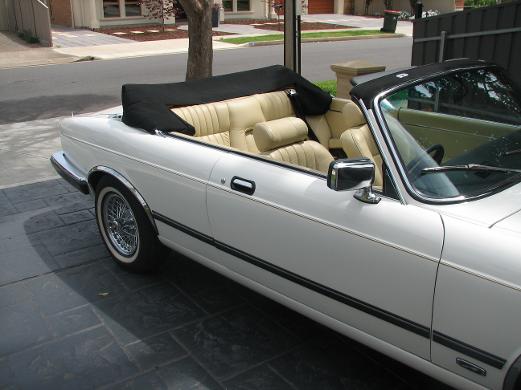 The car was purchased by another limosine company in N.S.W. owned by Mike Horsley. Mike I believe had two of these cars and found he did not have the business to justify the two and sold the car to yet another limosine company "Surrey Limos" in Melbourne from whom I purchased the car. I have to say it was an absolute pleasure doing business with the seller, Tim Purdie. I guess most of us have had some horid experiences when it comes to buying a used car. Tim presented the car beautifully for me on the day of purchase having arranged a full service and wheel alignment along with some other minor repairs and a Road Worthiness Certificate.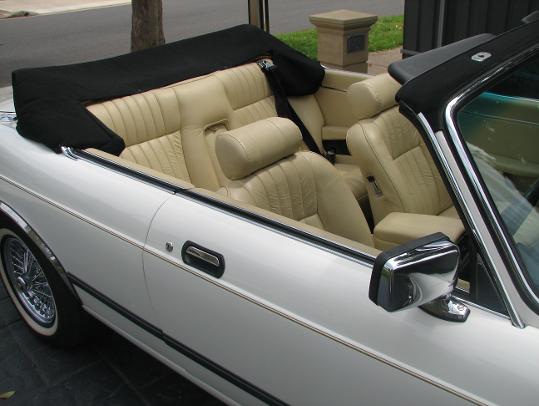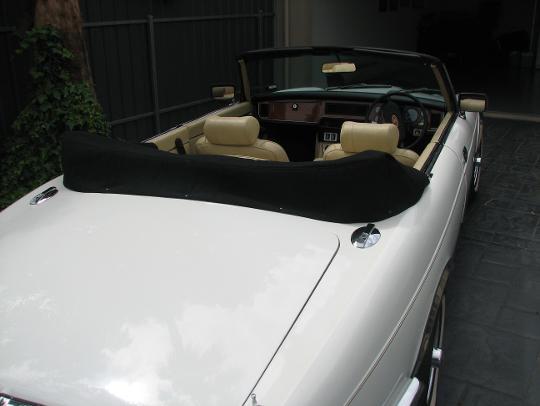 Having purchased the car, the first test was to drive it back to Adelaide. "Willimakeit" The car performed beautifully and we even negotiated a wild storm outside Ballarrat which really put the water proofing of the hood to the test. No leaks no worries at all!
Some will have noted that the car has had some cosmetic up-dates. The bumpers, door handles, boot lid, tail lights bonnet and grill are Series 3, whilst the wire wheels are Holden 14 inch (some will remember these from the 1970's offered as an option on Stateman) and the chrome wheel arches are a common extra. All of which I believe enhance the cars appearance and are very tasteful. So all I have to do now is ENJOY!!!!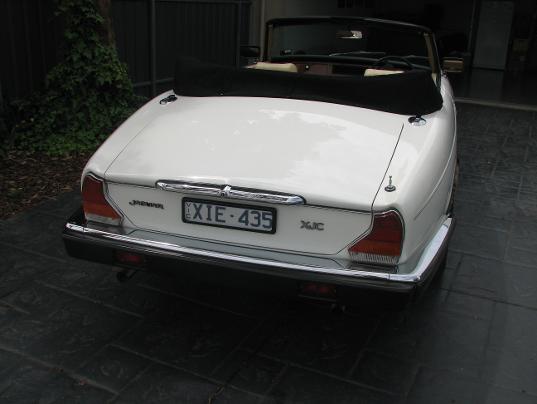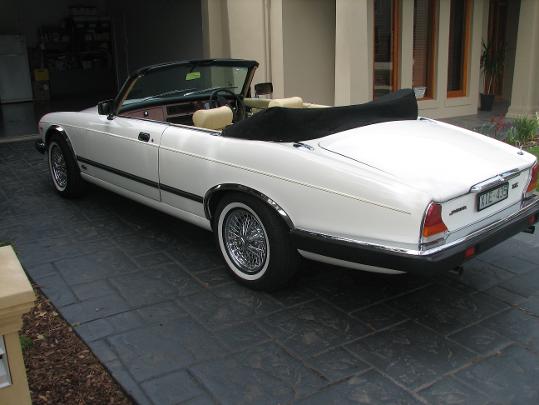 JDCSA - Annual Jag Day. -(17th Oct 2010) Despite some early rain there was a great turn out of Jaguars on the day. Apparently I am not the only person who thinks this car is desirable, or at least a lttle different. The car was voted runner-up in the "People's Choice" category. I have to say I was pretty pleased with that. I should say thank you to all who voted for the car. Great to see three XJC's present on the day.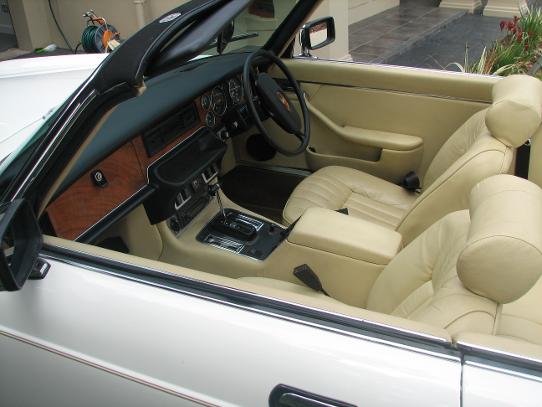 Of course the real fun is the hours one can spend in the shed working on these cars. There is always somthing to do, a part to replace, a bit to clean up and paint etc. I have purchased a walnut steering wheel which looks great and after much hunting around found suitable insulation lining for under the bonnet, more for cosmetic purposes than anything and the chrome work is slowly starting to look the way it should.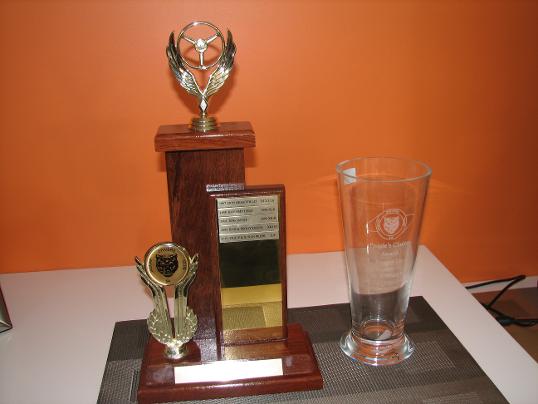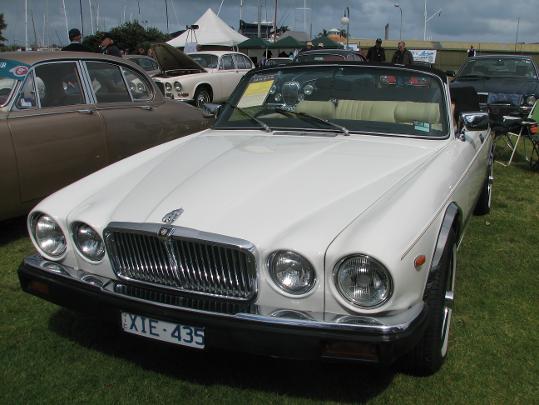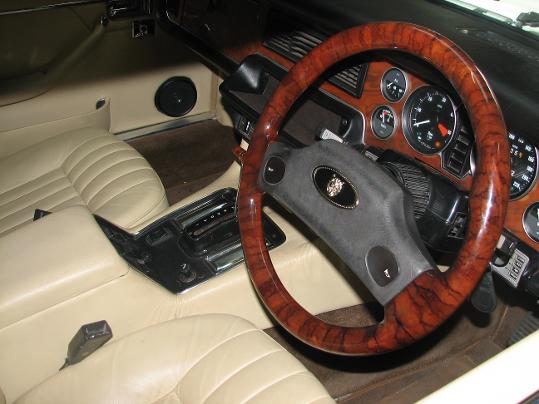 All Dressed up and ready for All British Day Uraidla SA. 2011. Should be a good day.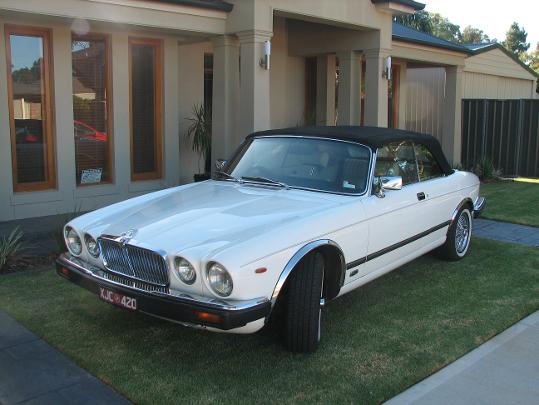 It is July 2011 and the fun continues. Always wanted to get rid of the Stomberg carbies on this car. Was able to purchase a set of HS8 SUs with manifold and linkages.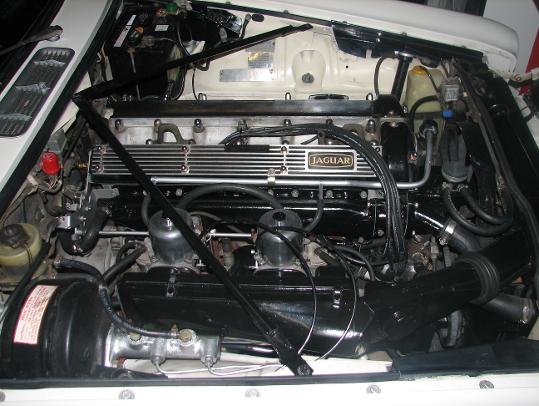 Threw away the AED (troublesome device) and installed a manual choke system. Car starts first time everytime now even on the coldest morning.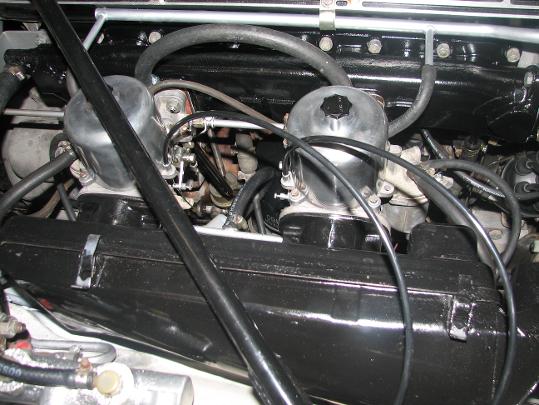 Photo below shows the engine bay before the clean out! Spot the difference. - Air pump and all associated plumbing GONE!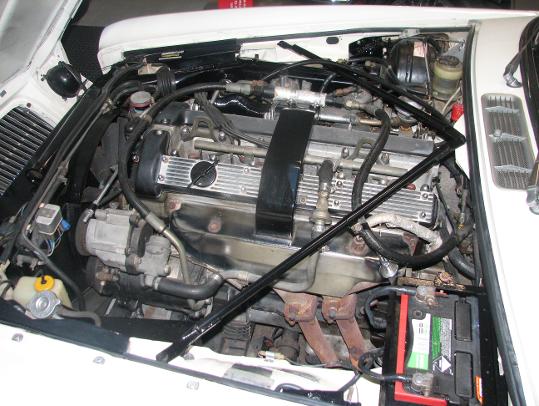 It's April 2012 and I thought that some update photos would be in order. I decided to swap out the 14" wire wheels for a set of XJS 'Starfish"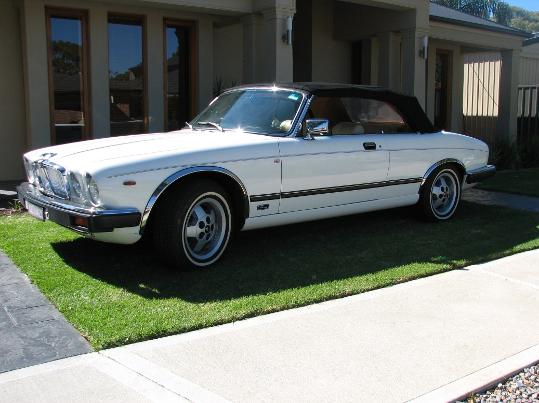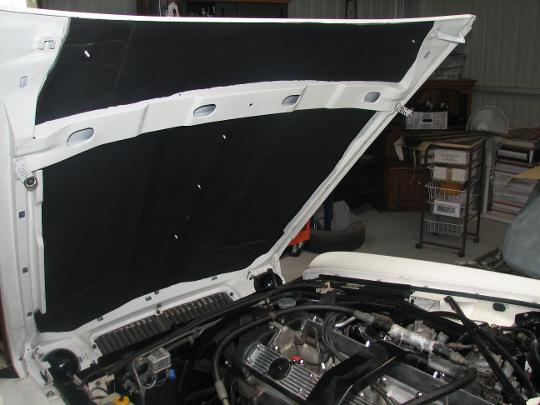 All British Day. The car once again gained a lot of attention. A big day with over 870 cars.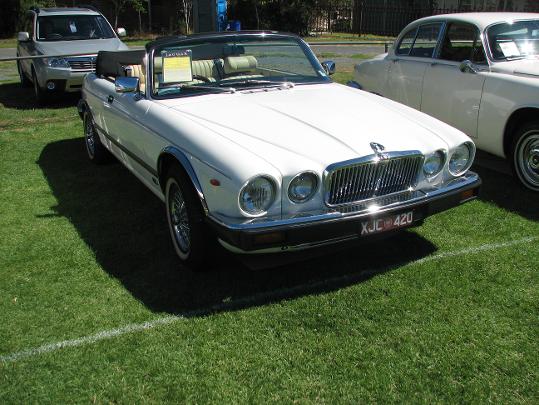 The "Stranglebergs" were removed, along with the manifold and associated plumbing. Re kitted the SUs, polished and painted all parts. What a difference!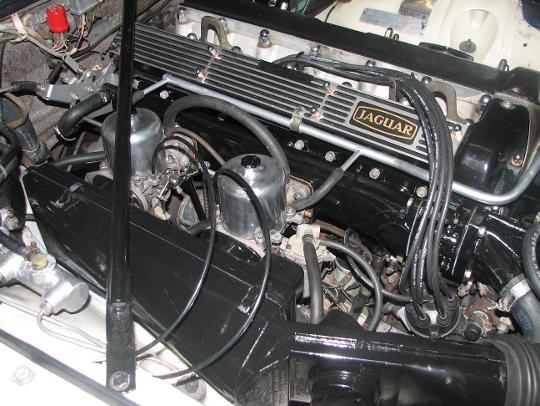 Customised stainless steel heat shield. Just somthing a little different. Engine bay now is looking very open and uncluttered.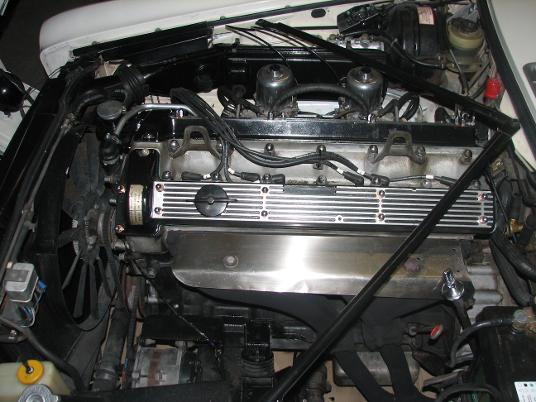 Photo below shows the engine bay before the clean out! - Non operative A/C and plumbing GONE! All "Strangleberg" plumbing GONE!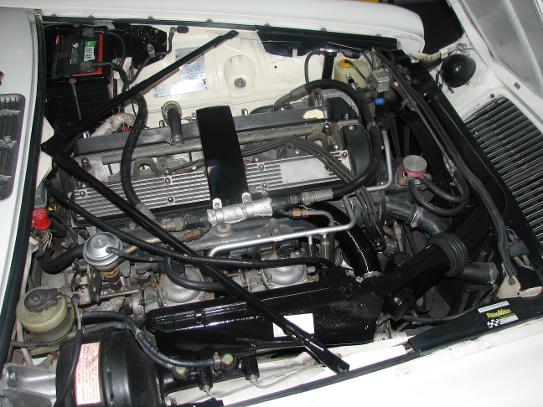 It is a matter of personal choice but I like the new wheels and besides they are soooooo easy to keep clean. Will consider getting them repainted.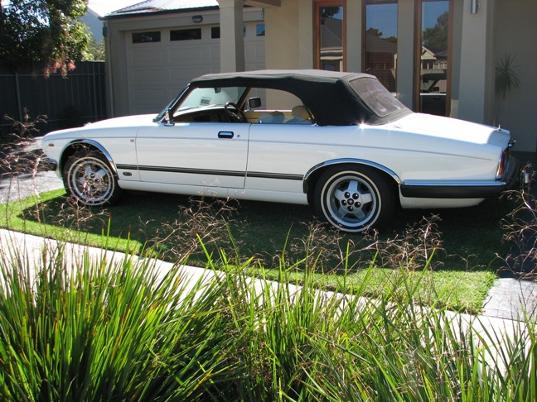 BREAKING NEWS! - Well here we are in December 2012 and I have decided to put this car on the market. I will only sell it if I can obtain a respectable price for it. I am asking $23,500. I realise that there is a limited market for this very unique vehicle, but practicality and economics, which are in many ways the same thing have led me to this position. I will purchase a replacement vehicle more suited to everyday driving. It may mean back to my roots and purchasing a holden of some description.

The car has now been sold to a very lucky gentleman in Melbourne. It is a sad day, I will miss this car greatly particularly when the warmer weather returns. My replacement vehicle as my every day car is a BMW 2000 735il what a magnificent car.